Bringing Chinese Culture to CBU: Meet Leslie Fu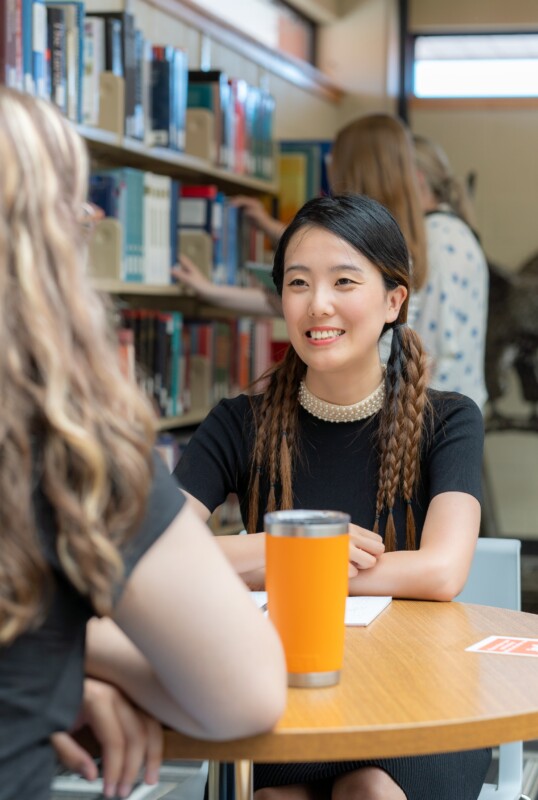 Sunday, January 22, 2023, marked the beginning of Lunar New Year, a festival that celebrates the beginning of a new year on the traditional lunar calendar. One of the biggest celebrations in Asia, the holiday welcomes a fresh start and the renewal of prosperity, happiness and health. Each year, the Lunar New Year celebrates one of the 12 zodiac signs. 2023 is the Year of the Rabbit, which is predicted to be a year of hope. 
While Leslie Fu, a second year Master of Business Administration (MBA) student, typically celebrates Lunar New Year with her family and friends in China, this is the second Lunar New Year she will be celebrating in Cape Breton. Leslie joined the CBU family in September 2021 and chose the MBA program because of its focus on community economic development, a program considered to be one of its kind in Canada. 
"I am very happy that I chose CBU. It's not big, but it is a very welcoming school with professors and employees that are willing to help its students," says Leslie. "At CBU, you can easily meet students from different countries in Asia, Africa, Europe and more. Experiencing the culture of different countries, learning different languages and becoming good friends with these students has enriched my student life at CBU." 
This year, Leslie was excited to have the opportunity to be part of CBU's Lunar New Year celebration committee. From Chinese calligraphy, paper art and dragon dancing, Leslie's goal was for everyone to feel the atmosphere and Chinese culture on campus. She also plans to organize a fundraising event during the Lunar New Year to help students in need by selling Chinese paper art and calligraphy made by CBU students. 
When asked how Leslie will celebrate Lunar New Year this year, she shares her excitement in celebrating with her Chinese friends here in Sydney. She also looks forward to inviting other friends from different countries to celebrate together so they can learn more about the traditional Chinese culture and eat their favourite Chinese food.
Throughout the Lunar New Year, Leslie will also spend time thinking about other family traditions back home in China, like putting up Chinese New Year scrolls and eating dumplings with her family. 
"If I were in China, I would start the Lunar New Year by eating dumplings with my family. Dumplings are shaped like treasure and have fillings so it's easy for people to wrap various auspicious and joyful things into the filling in order to send people good expectations for the new year," explains Leslie. "We would then watch the Chinese New Year Gala and set off firecrackers. In traditional Chinese culture, firecrackers are used to scare away the beasts of the New Year and to create a festive atmosphere that brings joy and good fortune." 
While Leslie won't be able to celebrate Lunar New Year in China with her family, she looks forward to seeing them over video so they can still celebrate the festival together. 
From everyone at Cape Breton University, we wish you a Happy Lunar New Year!